The 2021 Subaru Love Promise Customer and Community Commitment Award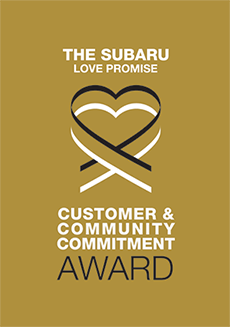 We've been nationally recognized for our dedication to our customers, our community, and the Subaru Love Promise.
We're honored to receive the 2021 Subaru Love Promise Customer and Community Commitment Award. This award nationally recognizes elite Subaru retailers who provide an exceptional customer experience at every interaction with Subaru. These retailers have also demonstrated an outstanding commitment to supporting passions and causes in their local communities in important areas such as the environment, community, health, education, and pets.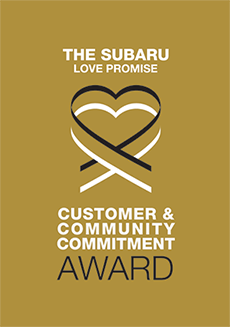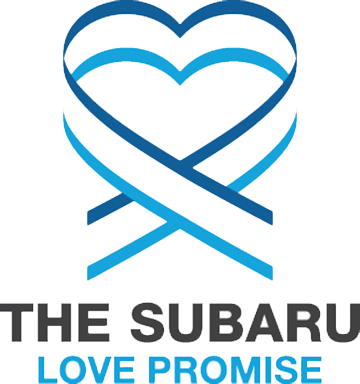 What is the Subaru Love Promise?
Subaru and our retailers believe in making the world a better place and the Subaru Love Promise is our vision of respecting all people. This is our commitment to show love and respect to our customers and to work to make a positive impact in the world.
How is Gillman Subaru San Antonio dedicated locally to the Love Promise?
Our Love Promise can be seen in various partnerships with local charities and non-profits. We're grateful for the opportunity, not only to be a part of our community, but to serve it as well.
MILITARY WARRIORS SUPPORT FOUNDATION
Love Promise Stories from Gillman Subaru San Antonio
Subaru and Gillman Subaru San Antonio believe in making a positive impact on the communities in which we live and work. We uphold that belief through our Love Promise Community Commitment. Every month, we select inspiring stories from customers and partners from around our area who strive to support our collective commitment and feature them here
Subaru Share the Love - John H
The mission of Military Warriors Support Foundation goes forward, steady, and strong, thanks to amazing supporters like Gillman Subaru San Antonio. Despite the challenges COVID-19 brought in 2020, their support did not waiver, which allowed us to continue serving our combat-wounded veterans, Gold Star spouses and their families. We were still able to travel to events and provide mortgage-free homes, payment-free vehicles, outdoor recreational outings and leadership development because of their support. Thank you again Gillman Subaru for the amazing support, we couldn't do it with you!
---
Gillman Subaru & Charming Pet Rescue - Charming P
Gillman Subaru San Antonio has come to the rescue for Charming Pet Rescue. Headquartered just down the street from Gillman Subaru in Bourne, Texas, Charming Pet Rescue provides rehabilitation and new loving new homes for dogs that have been abused or abandoned. The team at Gillman Subaru San Antonio donated the money and the manpower to assemble a badly needed shed to house pet food and supplies. We are so grateful for the whole team at Gillman Subaru San Antonio.
---
Gillman Subaru Supports Boysville! - Jesus G
Gilman Subaru's very own Shealyn Jordan coordinated the effort to provide face masks and blankets for the children and staff at Boysville. Now more than ever, Boysville depends on the community to provide care for over 130 children every year. With the COVID-19 pandemic, many changes were made to the everyday lives of our children. Gillman Subaru took time out of their day to deliver 80 brand new blankets and 100 new and reusable face masks. Mr. Charlie Rodriguez and Ms. Shealyn Jordan, along with their amazing team, have ensured every child at Boysville and staff member has a face mask and their very own SUBARU blanket! Thank you from Boysville, Inc.
---
Military Warriors Support Foundation/ Gillman - John H
Gillman Subaru San Antonio presented a check for $31,673 to the Military Warriors Support Foundation. These donations were collected during last winter's Subaru Share the Love Event. When any customer buys a new Subaru during the Share the Love Event, Subaru will donate $250 to the hometown charity of the dealerships choice. Gillman Subaru San Antonio more than doubled their donation from last year thanks to the generosity of their customers and the loyal Gillman Subaru community. We are so thankful for this donation. Thank you Gillman!
---
Gillman Subaru Loves Pets - Shealyn J
A group of Gillman Subaru employees visit a local animal shelter to volunteer once a month. They use their time to play with dogs and cats and to help clean up the shelter. "We love being able to give back to our community and helping out at the shelter is simply one way we can do that. Plus we love playing with all the animals!" -Shae P.
---
Gillman Subaru Appreciates Local Law Enforcement - Shealyn J
Across the country on January 9th each year, citizens take the lead to show support on National Law Enforcement Appreciation Day. Gillman Subaru of San Antonio employees showed their appreciation as well. A few employees visited with Schertz, Cibolo, Selma, and JBSA-Randolph law enforcement agencies bringing snacks and checking out their facilities. Law Enforcement Officers of every rank and file have chosen a profession that puts their lives on the line every day for their communities. They've answered a call to public service that is demanding and often unappreciated. The jobs are often thankless and take them away from their families for long hours. Rarely do they know what their days have in store for them.
---
Gillman Subaru San Antonio Lights the Night - Jacqueline R
On October 12th, 2019 Gillman Subaru San Antonio teamed up with us to fight against Leukemia and Lymphoma. Each year we host the Leukemia and Lymphoma (LLS) "Light the Night" walk. Year after year, Gillman Subaru has been a huge supporter. At Light the Night it is our aim to bring light to the darkness of cancer through research to find blood cancer cures. Gillman Subaru took time to collect donates from co-workers and families to raise money in support of our mission. These donations fund treatments that are saving lives of patients every day. We can't thank Gillman Subaru San Antonio enough and we can't wait for next year's walk!
---
Gillman Subaru and San Antonio Children's Hospital - Jacqueline R
Thank you so much Gillman Subaru San Antonio! Through their partnership with the Leukemia and Lymphoma Society they donated blankets and crafts to young cancer patients. Gillman Subaru staff took time out of their day to distribute the kits and visit with cancer patients at The San Antonio Children's Hospital.We are all so thankful.
---
Gillman Subaru supports learning through reading - Shealyn J
Gillman Subaru of San Antonio supports education through the donation of books to a local elementary school every year. This year we visited Rose Garden Elementary School and spent some time with a 1st grade class in their amazing library. Tony Osborne, GM of Gillman Subaru of San Antonio, read one of the donated books about different animals' homes to the captivated audience. The children were excited to have visitors and asked lots of questions. At Subaru, we believe in education. That's why we support organizations dedicated to making learning as accessible as possible. Since 2015, we've partnered with AAAS through the Subaru Loves Learning initiative to donate over 277,600 science books to schools in communities across the country. With more than 120,000 members and some 250 affiliated societies and academies of science, the American Association for the Advancement of Science (AAAS) serves as an authoritative source for information on the latest developments in science. AAAS seeks to advance science, engineering, and innovation throughout the world for the benefit of all people. By nurturing students' scientific interests and talents, AAAS programs provide exciting opportunities and help build bridges to careers in science, technology, engineering, and mathematics.
---
Packing Hope for Children with Cancer - Gillman S
Gillman Subaru of San Antonio has packed more than 80 bags to donate to local San Antonio children with cancer. Gillman employees will hand deliver these bags full of blankets, arts and crafts kits, messages of hope, and fun Subaru swag! We would like to thank all our customers who contributed by writing a message of hope and our two little friends who helped us pack the bags! – Subaru Names LLS Charity Partner for June, Subaru Loves to Care Month, for the Fourth Consecutive Year – Subaru of America, Inc. and The Leukemia & Lymphoma Society (LLS), two organizations committed to positively impacting the communities where they live and work, have partnered once again to send hope, love and warmth to patients fighting cancer. For the fourth consecutive year, Subaru and LLS will deliver blankets, messages of hope and arts and crafts kits to cancer patients and their families in communities across the country. "At Subaru, we are passionate about showing love and respect to all who interact with our brand through the Subaru Love Promise and meaningful partnerships with organizations like The Leukemia & Lymphoma Society," said Thomas J. Doll, President and CEO, Subaru of America, Inc. "This year, I am honored to take on the role of Light The Night Corporate Walk Chair for the New Jersey Chapter of LLS. Our goal is to accelerate corporate support and help this annual fundraising event have an even greater impact, in order to move closer to a world without blood cancers." Spread the Love Promise Throughout June, Subaru and LLS will bring the Subaru Loves to Care initiative to life at a record 542 Subaru retailers across the country. Visitors to participating Subaru retailers will be given the opportunity to write personalized messages of support to cancer patients in their local communities, and anyone can send an online message of support at www.lls.org/subaru. At the end of Subaru Loves to Care month, participating Subaru retailers will partner with local LLS chapters nationwide to deliver more than 43,000 blankets and 9,500 arts and crafts kits, along with messages of hope written by Subaru customers, to those fighting cancer in hospitals and treatment centers across the country. In addition, LLS will be collecting inspiring stories and photographs of recipients to serve as a reminder of the good the Subaru Loves to Care initiative brings to thousands of patients nationwide. One such survivor is Sophia. Seven-year-old Sophia was diagnosed with pre-B-cell acute lymphoblastic leukemia just after her fifth birthday, in June 2017. She spent countless days in the hospital and had to miss her entire kindergarten school year to undergo intense treatment. "Sophia is a strong fighter," said her mother, Marlene Costa. "Treatment has been exhausting for her and frightening for me, but she is so courageous and never stops smiling." Today, Sophia is in remission and last fall she was cleared by her doctors to enter first grade at Rymfire Elementary in Palm Coast, FL. She'll continue treatment over the next year, but Sophia is excelling in school and loves biking, coloring, board games and spending time with her family and new friends. According to Dr. Louis J. DeGennaro, president and CEO, The Leukemia & Lymphoma Society, "LLS was founded by a family for families 70 years ago, and we are closer than ever to cures. Curing cancer takes collaboration. It requires all of us, together. Working with Subaru, it is our combined dedication and heart that is helping to bring us to the ultimate frontier: cures for families today, and for generations to come." Visit a participating Subaru retailer to write a message of hope or visit www.lls.org/subaru to write an online message and learn more about LLS's mission and impact, and how to help Subaru and LLS lead the way to cancer cures. For more information about Subaru Loves to Care, please visit www.subaru.com/loves-to-care. About The Leukemia & Lymphoma Society The Leukemia & Lymphoma Society ® (LLS) is the world's largest voluntary health agency dedicated to blood cancer. The LLS mission: Cure leukemia, lymphoma, Hodgkin's disease and myeloma, and improve the quality of life of patients and their families. LLS funds lifesaving blood cancer research around the world, provides free information and support services, and is the voice for all blood cancer patients seeking access to quality, affordable, coordinated care. Founded in 1949 and headquartered in Rye Brook, NY, LLS has chapters throughout the United States and Canada. To learn more, visit www.LLS.org. Patients should contact the Information Resource Center at (800) 955-4572, Monday through Friday, 9 a.m. to 9 p.m. ET. For additional information visit lls.org/lls-newsnetwork. Follow us on Facebook, Twitter, and Instagram.
---
Brave Heroes Fighting Cancer One Day at a Time - Jacqueline R
It was a warm summer day with the sun shining bright as the Gillman Subaru crew set forth on a day that would change their lives forever. Jason Chapa led the crew on a selfless gesture in hopes to help brighten the day of children fighting the worst battle imaginable, cancer. Children's Hospital of San Antonio Pediatric Oncology unit was filled with children and their family along with the hospital staff who greeted Jason and his crew upon their arrival. Buster the Blood Drop, the San Antonio chapters' mascot, accompanied Gillman's crew who had blankets, messages of hope cards and craft kits in hand to gift these beautiful souls with small tokens filled with love and encouragement to help them on their journey to healing. Jason and his crew were humbled to "be in the presence of true heroes." These patients are brave forces of light that bring inspiration to all as they fight for their lives. The Gillman crew ensured these children that they are rallying behind them to conquer this battle. To show their commitment to helping save lives and these children, Gillman Auto Group sponsored $7,500 to San Antonio Light The Night. Their generosity didn't end there. Gillman Subaru will be the Mission Chariot Sponsor and honor a patient/survivor by chauffeuring them as they lead San Antonio Light The Night on October 13, 2018. Gillman Auto Group loves to be involved in the community. "We show our community that we do things for a purpose." What greater purpose than supporting Leukemia & Lymphoma Society to help find a cure and eliminate this horrible battle. "These kids are going through their toughest battle they will every fight. The least we can do is offer support, encouragement, and hope. Our hope is to make sure they know we think of them daily." Jason expressed with genuine adoration for all the lives touched on this special visit. Each child was in awe and excited to receive their craft kits, blankets, and the opportunity to be photographed with Buster. June 28th, 2018 is a day the Gillman Subaru crew will keep in their hearts forever as they continue to support The Leukemia & Lymphoma Society's mission with their Subaru Loves to Care initiative. Through this partnership there have been over 105,000 blankets and 12,465 craft kits gifted to those fighting cancer at hospitals and cancer treatment centers across the country.
---
Children's Hospital of San Antonio Visit - Jessye P
On July 18th, Jason Chapa, the general sales manager of Gillman Autogroup, delivered blankets, messages of hope, and arts and crafts to Children's Hospital of San Antonio Oncology Unit. This is the second delivery Jason Chapa has done, but the first time to meet and personally deliver blankets to patients. Two patients in particular, gave us a brief background of themselves. One patient who is eight years old, told us how much he loved his Hot Wheels. He even showed us his collection of Subaru cars he enjoyed playing with. When it was time to go, he gave Jason a huge hug and thanked him for the blanket and even joked about getting a Subaru car donated for next year's delivery. The next patient was a fourteen year old who enjoyed reading Harry Potter books and has read all of them more than six times while in treatment. He also told us that he still had last year's blanket to keep him warm during chemotherapy. After all the deliveries, Jason was touched and overwhelmed in meeting patients and their families. "Seeing their smiles truly warmed my heart," says Jason. "We aren't looking for our name to be on our blankets. In fact, we want to help out the community more. It is our mission to continue to assist our community, one way or another. This was an experience I will never forget as a Sales Manager here at Gillman Autogroup. We are excited what we can help with next year with LLS."
---
Gillman Subaru sponsors Pawchella - Fran Y
Whether they live in our homes or in the wild, Gillman Subaru San Antonio is committed to keeping all animals safe and healthy. As part of our Subaru Loves Pets support, Gillman Subaru is the sponsor of Pawchella. Pawchella celebrate our love affair with animals with an afternoon of interactive activities for our pets. Our customers and their four legged pets enjoyed an afternoon of music, shopping and even had the opportunity to adopt a new furry friend from the San Antonio Humane Society. The event was held on November 5th and benefitted the San Antonio Humane Society.
---
MWSF Receives Donation! - John H
In San Antonio, Gillman Subaru selected the MILITARY WARRIORS SUPPORT FOUNDATION as their local hometown charity for the Share the Love Event. Our mission is to provide support for our nation's combat wounded heroes and their families that allows them to make a smooth and successful transition from military life. Our programs include home donation, academic and employment assistance, as well as recreational activities. We recently took delivery of multiple Subaru vehicles which are used to support a multitude of programs.I'm pleased to announce that through the Share the Love program, Gillman Subaru San Antonio raised $6,139.75 for the Military Warriors Support Foundation. Accepting the check on behalf of the Military Warriors organization is KEVIN JONES. Kevin is the Transportation 4 Heroes Program Coordinator. He provides transportation for our combat wounded veterans who lack transportation and need our services to get to the VA hospital for their appointments. Additionally, he provides special request transportation for our Heroes if they need to go to a specialized facility. Pictured: Stacey Gillman Wimbish, (President Gillman Automotive) Patrick York, (CEO Gillman Automotive Group), Sergio Guerra (GM Subaru San Antonio), Jason Gillman,(VP Gillman Automotive Group) Kevin Jones (Transportation 4 Heroes Program Coordinator, Military Warriors Support Foundation).
---
US Army Specialist Abdullah Savage - John H
Retired Specialist Abdullah Savage served his country faithfully in the United States Army's 10th Mountain Division. Later in his deployment, his unit was hit by an Improvised Explosive Device (IED) killing other Soldiers in his unit. SPC Savage was injured but he survived with a severe Traumatic Brain Injury (TBI). He was awarded the Purple Heart for injuries he sustained while performing combat operations. He was brought to Brooke Army Medical Center (Today known as, San Antonio Medical Center) located in San Antonio, Texas where he spent 3 weeks in a coma and an additional 9 months there before being released. In 2012, the Audie Murphy VA Hospital called us, Military Warriors Support Foundation, asking if we could provide transportation for a veteran named, Abdullah Savage. The VA Hospital needed us so he could stay on track with his treatments as they were critical to his recovery. We are now in the year 2016 and we are proud to say that Specialist Abdullah Savage was released from his treatments. Mr. Savage, with heartfelt expression, says THANK YOU to us and Subaru; a partnership that has provided him with 3 years of faithful transportation to and from his VA appointments. He has made such tremendous strides and improvements in his health, that his neurologist and case manager have cleared the way for him to resume driving. The very next day we took Mr. Savage to the Texas Department of Public Safety, where he received his driver's license.
---
Donation to Military Warrior Foundation - Gillman S
Kevin Jones and Abdul Savage, members of the Military Warrior Foundation, were honored guests at the Gillman Subaru San Antonio March Owners Clinic. Kevin and Abdul accepted a $3,000 donation from Subaru of America on behalf of Gillman Subaru San Antonio. Both men expressed their appreciation to the new Subaru owners and guests. They were especially grateful for the Subaru Share the Love program and the support their organization receives. Gillman Subaru San Antonio will be the Courtesy Delivery Location for the next four Subaru vehicles Subaru of America is providing the Military Warrior Foundation.
---
Turkey Dinner for Airmen - David W
In an effort to thank our Single Air Force Personnel at Randolph Air Force Base, Cibolo Grange, offers free Turkey Dinners during Thanksgiving. We understand that due to financial situations or work rotations, some people are not able to get home for the holidays. Therefore we bring it to them.
---