Memorial Day Buy Back Event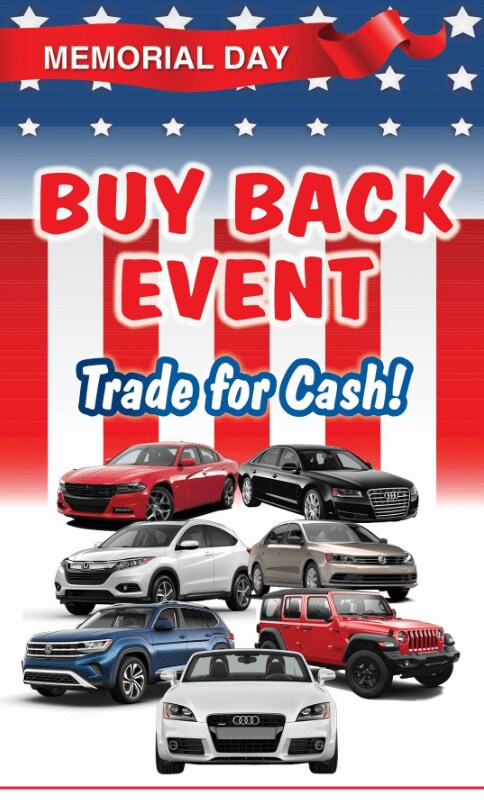 How are you going to celebrate Memorial Day this year? If you're like many, you might attend a parade or barbecue to honor the servicemen and women who died protecting our country during their tenure in the U.S. Armed Forces. You may even engage in some outdoor fun as the holiday is widely recognized as the unofficial start of summer.
As much as we hope you'll do any and all of those things, we're also optimistic that you'll stop by our Selma, TX Subaru dealership on Saturday, May 27th or Monday, May 29th. That is when we'll host our much-anticipated Memorial Day Buyback Event- including free hot dogs from Road Dogs Food Truck on Saturday from 12-3pm and drive-through appraisals!  So stop by if you're interested in selling your car!
Everything You Need to Know About Our Memorial Day Sales
Our Memorial Day Buyback Event gives drivers the chance to sell or trade their current cars. Selling your vehicle means you'll walk away with bankable cash. If you decide to trade in your automobile instead, you'll receive funds you can use as a down payment on a new Subaru model or one of our previously owned automobiles.
Throughout this event, appraisers will be on-site to make an offer on your vehicle. To get an idea of what your vehicle is worth before our event even kicks off, use the intuitive value your trade tool on our website.
The Memorial Day Buyback Event, hosted by Gillman Subaru San Antonio, is a great time to upgrade to a new Subaru WRX, Subaru Outback, or another Subaru model. Even if you don't want to buy or lease another vehicle, you can still walk away from our location with funds you can put in the bank simply by selling us your ride.
What You'll Need To Sell Your Car
Whether you plan to sell or trade your existing car, you'll need to provide some information so we can close the deal during our Memorial Day Buyback Event. A valid state-issued or military ID, your vehicle registration, and your title or payoff information are some of the things you'll need to provide.
Pre-Apply for Subaru Financing Through Gillman Subaru San Antonio
If you're going to upgrade to a new or pre-owned Subaru vehicle during our Memorial Day Buyback Event, you may want to apply for Subaru financing now. Doing so will prepare you to shop at our Subaru dealership the moment our upcoming event begins.