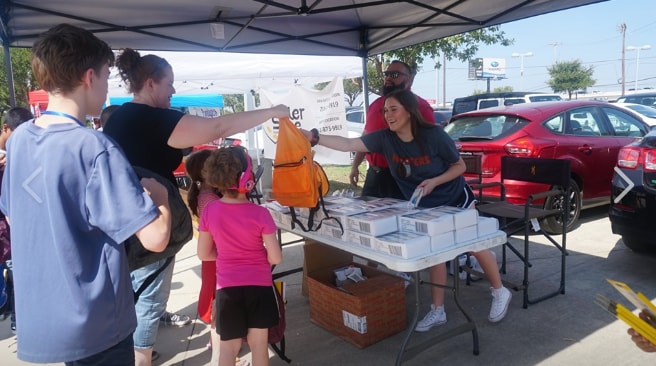 Now that most schools near Schertz, TX have resumed classes, we hope that your family has gotten back into the swing of things. Here at Gillman Subaru San Antonio, we understand that this time of year can be a hectic one for busy families, which is why we tried to do our part to make things easier by holding the Back to School Event. Now that the event has come and gone, we are happy to report that everything went smoothly and many schoolchildren were able to receive free school supplies.
At our dealership, we try to do more than just sell a huge selection of new and used Subaru cars. We understand that as a part of the community, it is our duty to give back, and our way of doing that is by hosting events like the Back to School event. On August 17th, we joined our friends over at Gillman Honda San Antonio, and handed out free backpacks, school supplies, and haircuts to over 500 kids. We even had a llama, live music, and food trucks.
Our dealers were not alone in sponsoring the Back to School event. We'd like to extend our sincere gratitude to all the local businesses who helped sponsored school supplies. These companies include:
GVEC
Amigos Mechanical
Christina Valero, Realtor – EXP Realty, LLC
Cheddar's Scratch Kitchen
Hooters
Moon Cleaning
Majors Body & Paint
Selma Police Department
Gillman Mitsubishi San Antonio
Dealer Source Ltd.
Leslie Lane Llamas
Samuel Clemons
J&S Entertainment
Just Dogs 34 Jesse
N Krystal Hamilton
Liz's Beautiful Things LLC
Fajita Rita's
Sport Clips Haircuts of Schertz
Thanks again to our cosponsors, and we hope to see you at our dealership soon!